When I first became aware of Virgin Voyages, I was immediately intrigued. As a travel advisor, I went on and took the training as soon as each module was available and it just made me even more excited. When the pandemic hit full force and Virgin Voyages had to delay, I pushed it to the back of my mind for a bit.
Fast forward to earlier this year now – I was pondering what to do for my birthday (yes, I'm one of THOSE people) and I decided on a Virgin Voyages cruise! I chose a Fire & Sunset Soiree itinerary and even booked a Rockstar Suite (Brilliant). About a month before, I received an Access Key sailing so I ended up in a Sea Terrace cabin on the sailing right before the one I already had booked.
Long story short – I was on the beautiful Scarlet Lady for NINE (9) whole days from October 14 to 23.
Now, the major question:
Is Virgin Voyages worth it? 
The short, unfiltered answer is YES. For more detail, keep reading. I am even going to link key moments for you to jump to if that's all you're interested in:
We flew in one day before embarkation day and lodged at the Tru by Hilton Miami West Brickell hotel near Downtown Miami. I chose this hotel because the pricing was good, they had complimentary breakfast, and it was only 2 miles from the Port of Miami. For a one night stay before cruising, it was more than sufficient. We were close enough to even walk over to Downtown Miami and grab some food from Coyo Taco (SO good) before it began to rain profusely but that's another story for another day.
On embarkation day, we took a Lyft from the hotel to the Port of Miami to board Scarlet Lady on the Dominican Daze itinerary going to Puerto Plata, DR and Bimini, Bahamas October 14 to 19, 2022. Our boarding time was 2pm, however we decided to head over around 12pm because we were impatient but also because I had Virgin Voyages status match me into their Sailing Club by using my Disney Cruise Line level which gave me Sea Rover status and Deep Blue Extra perks that included expedited boarding. Upon showing them my status, we were provided with special wristbands and moved to the VIP entry line (aka Boarding Group 1). The entire process was outlined well and we were on the ship before 2pm. 
NOTE: We did pass our bags off to a porter at the port (please note these people are NOT employed by VV) and there was a slight delay in getting all of our bags to our room. In hindsight, we should've just walked our bags on since we are carry-on only travelers.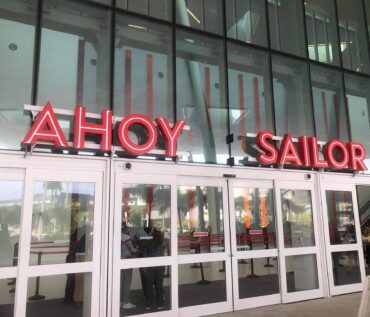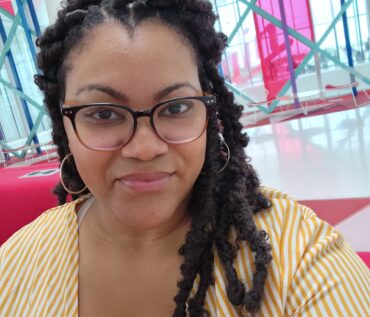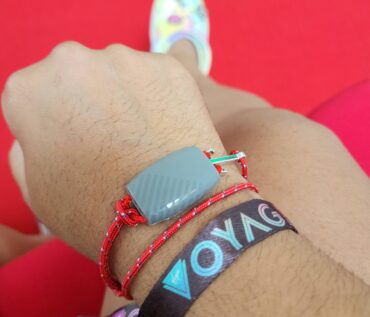 Once we were aboard the ship, it was immediately apparent that this was every bit as swanky, posh, and relaxed as Virgin has touted the brand to be. If you're someone who loves "Instagrammable" spots, this ship is FULL of them. It really is a beautiful, beautiful ship and I wouldn't mind a sailing of just being at sea – it really is enough just to be aboard Scarlet Lady.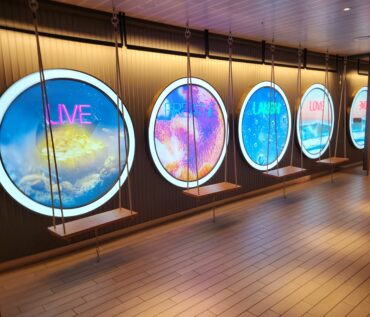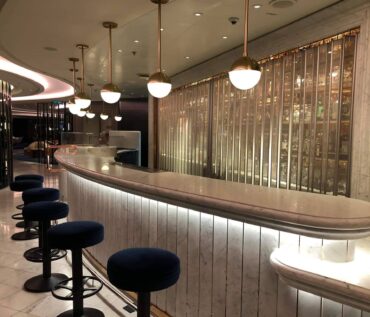 We did two back to back sailings. The first sailing we were in a Sea Terrace cabin (10038A) and for the second sailing we were in a Brilliant Suite which is a Rockstar category room and came with tons of perks (more on that later).
The Sea Terrace cabin was pretty standard in size as far as cruise cabins go and was well-appointed. I found the shower had plenty of space to turn around in and shower comfortably. There were drawers for storing items and a place to hang things as well. There are no irons in cruise ship cabins, however you can request a steamer if needed and your room attendant will bring one.
My one gripe about the cabins is the "Sea Bed" which is essentially a couch that they convert into a bed. I didn't find it all that comfortable though my husband slept fine. The real selling point is the hammock on the terrace. Virgin really outdid themselves with this idea. The hammock is HEAVEN and so relaxing. You definitely owe it to yourself to book a Sea Terrace or higher just to experience the hammock. 
Now, because I'm a planner (obviously!), I had already booked dining and entertainment well before boarding the ship (HINT: I had access that other sailors didn't because I'm a Gold Tier certified advisor with Virgin Voyages! You can have the same access by booking with me). If you do not book this ahead of time, you run the risk of not having dining reservations at the time you'd like, HOWEVER, this is not reason to panic. 
Virgin Voyages doesn't have a buffet – this is heaven for a germophobe like myself. Their answer to traditional cruise buffets is called The Galley. Think of it as a food court/fast casual dining restaurant hybrid. Head up to Deck 15 Mid or Aft and you'll be at The Galley. Here you'll have a variety of options depending on the time of day, including sandwiches, salads, breakfast, sushi bento boxes, and more. How it works is you find a place to sit, scan the QR code to pull up the menu (there's one menu but it includes all the options available in The Galley), decide what you want, and a host/hostess will be by to take your order. When your order is ready, they bring it to you. 
This particular sailing was more full than previous sailings (about 1,700 sailors) so ordering at The Galley often took me flagging someone down. Fellow agents aboard and myself made the suggestion for them to add some sort of flagging system so that hosts would know who hadn't been helped yet. Nonetheless, we found ourselves up there more often than we thought – especially for the late night duck confit ramen. YUM.
You can also always order room service – I was particularly fond of how they delivered the items in a neatly stacked sack. The menu is available in the Virgin Voyages app; this is also how you will place your order. There is a $5 room service charge if you only order free items. If you order a paid item, however, the $5 service charge is waived. The service charge is also already waived for Rockstar and Mega Rockstar Sailors.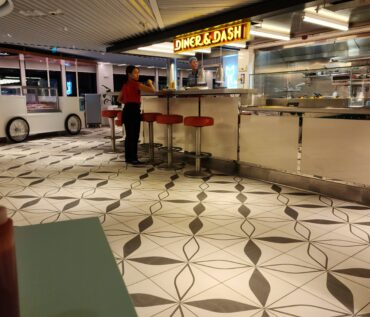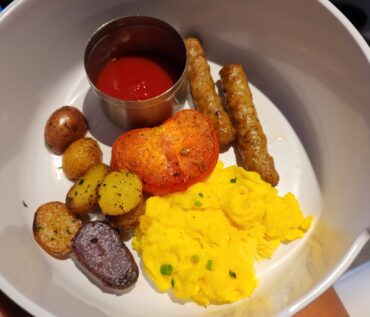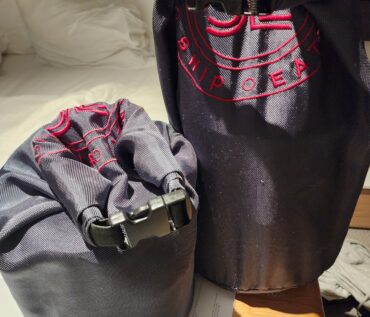 On to the restaurants. Virgin Voyages has curated a collection of restaurants that could rival any swanky town's best establishments. They are beautiful and put together artfully to get people fed and full without taking hours and hours. The categories available are Steakhouse (The Wake), Italian (Extra Virgin), Korean BBQ (Gunbae), Mexican (Pink Agave), Vegan/Vegetarian (Razzle Dazzle) and Experimental (Test Kitchen). All of these require reservations to dine at a set time, however depending on how full your sailing is, you may be able to walk up and be seated. 
In addition to the restaurants that require reservations, there are also eateries you can just go to at any time they are operating and be seated such as the Social Club Diner –  where you can get hot dogs, popcorn and chicken wings, The Dock which serves AMAZING Mediterranean food, Lick Me Till…Ice Cream with delicious artisan ice cream and Sun Club Cafe which serves poke bowls. There is truly something for EVERYONE – including those with food sensitivities or those on certain diets. Before every meal we were asked if we had any allergies or restrictions. They did a phenomenal job catering to everyone's individual needs and they deserve recognition for it. 
FUN FACT: Brunch is available at Razzle Dazzle and The Wake but can ONLY be booked once onboard. I highly recommend brunch at The Wake – really good. Be sure to book it ASAP. You can even connect to the ship Wi-Fi while at the terminal waiting to embark and get booked before you even board.
There is a coffee shop aboard also! I enjoyed my daily iced mocha latte with two added shots of espresso.
In summation – we did NOT go hungry. It is important to note that I am a great cook and foodie and my husband is also. We aren't critics in any way, however we have a higher expectation for what food should taste like. Our favorite hands down was Extra Virgin. The pasta was fresh and delicious and the potato gnocchi was absolutely divine. Our biggest letdown, surprisingly, was dinner at The Wake. The restaurant itself was beautiful, but my steak was overcooked and lacked flavor and my husband was also not impressed with his meal. I'm hoping it was just a case of them being overwhelmed since the sailing was full. I'd give it another try, though.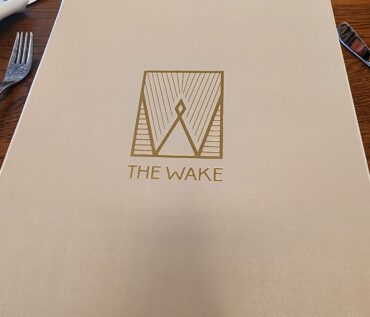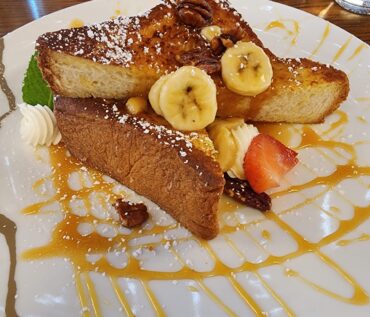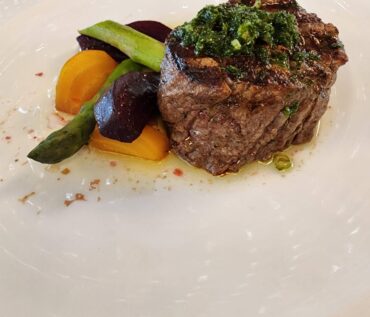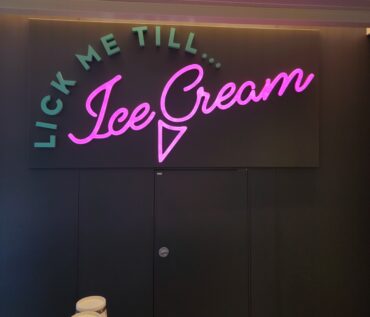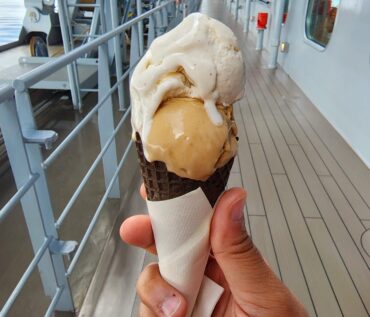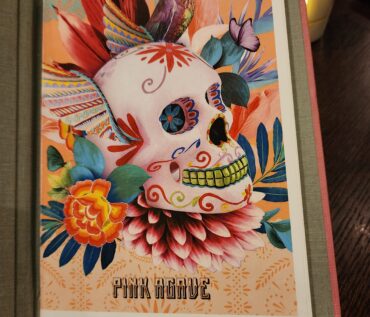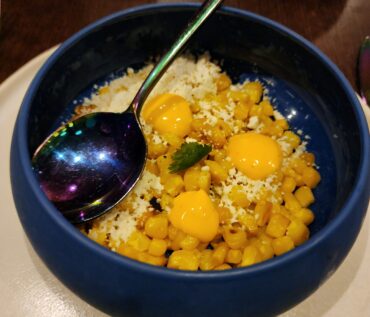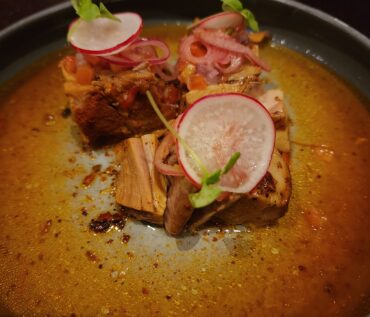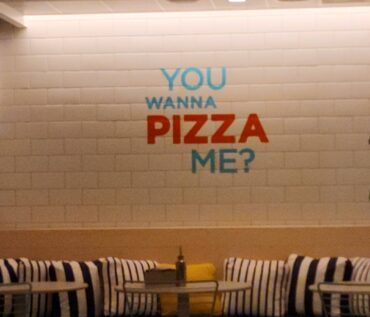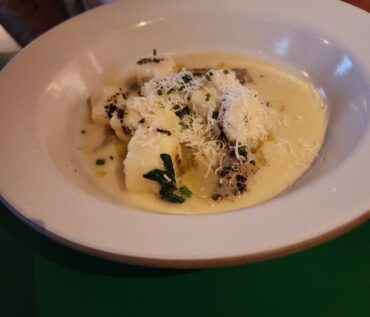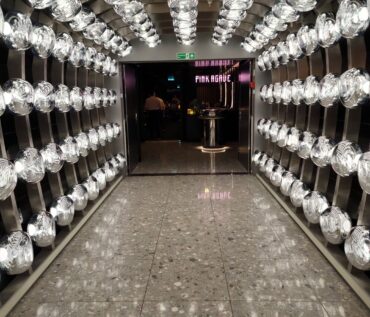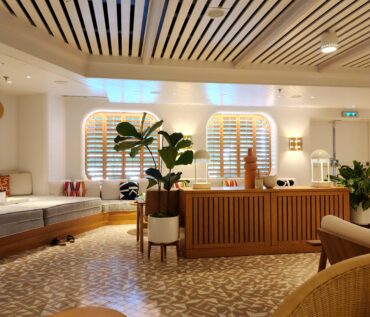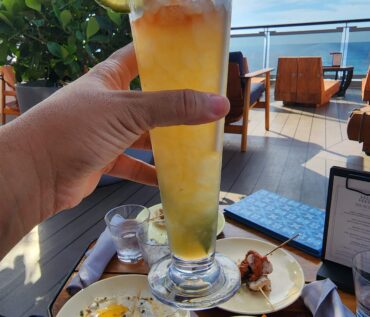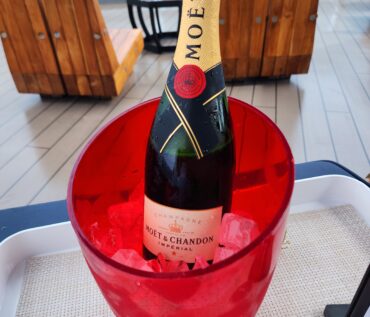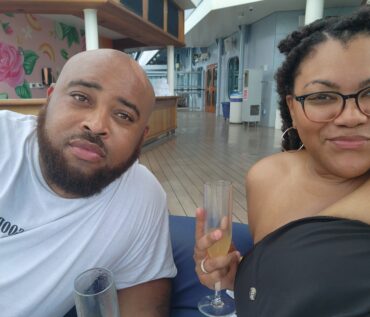 Virgin is still new and, thus, they are still figuring some things out. That being said, there were plenty of options for things to do if you're the type of person who needs entertainment often. From guest DJs to live bands and even theater productions, there was something for everyone. There's even a casino onboard which, being a Vegas local, was a bit like being at home for me. There are shops onboard though the operating hours are a bit odd, in my opinion (why can't I go buy essentials in the morning?!).
Of the theatrical performances, Ships in the Night was the most confusing for me. Duel Reality was great. Never Sleep Alone was very entertaining, though not for the faint of heart (this IS Virgin Voyages, after all). 
Scarlet Night is a shipwide party that begins with a "wedding" and ends with a party on the deck by the pool. It was immersive, lively, and a great time. Whether you were just observing or dancing in the pool, it was a TIME to be had. 
I'm not a person who needs to be entertained all the time so I found the offerings sufficient. Again, however, if you need loads of things to do, this line may not be the best fit for you just yet as they continue to find their voice in the industry.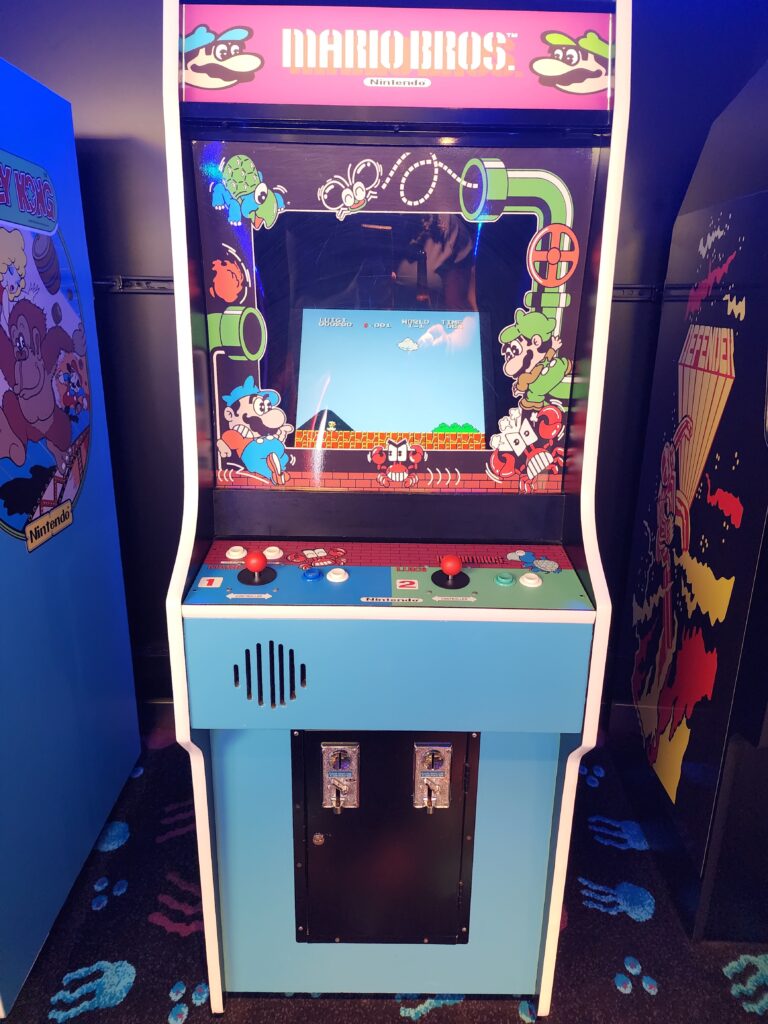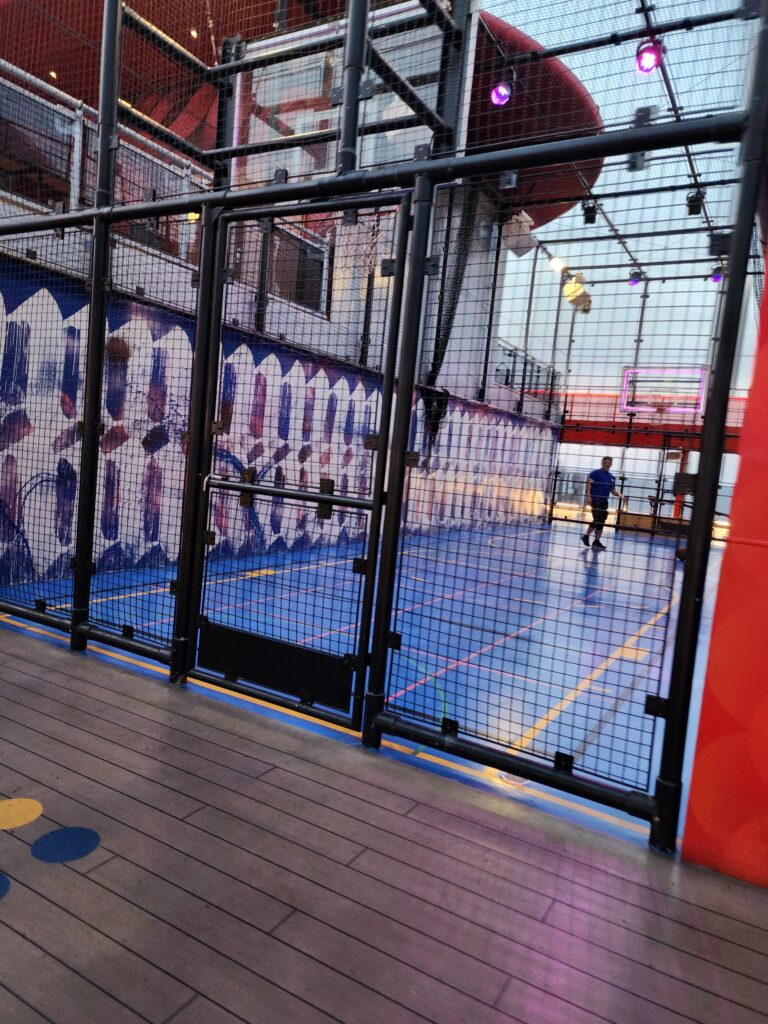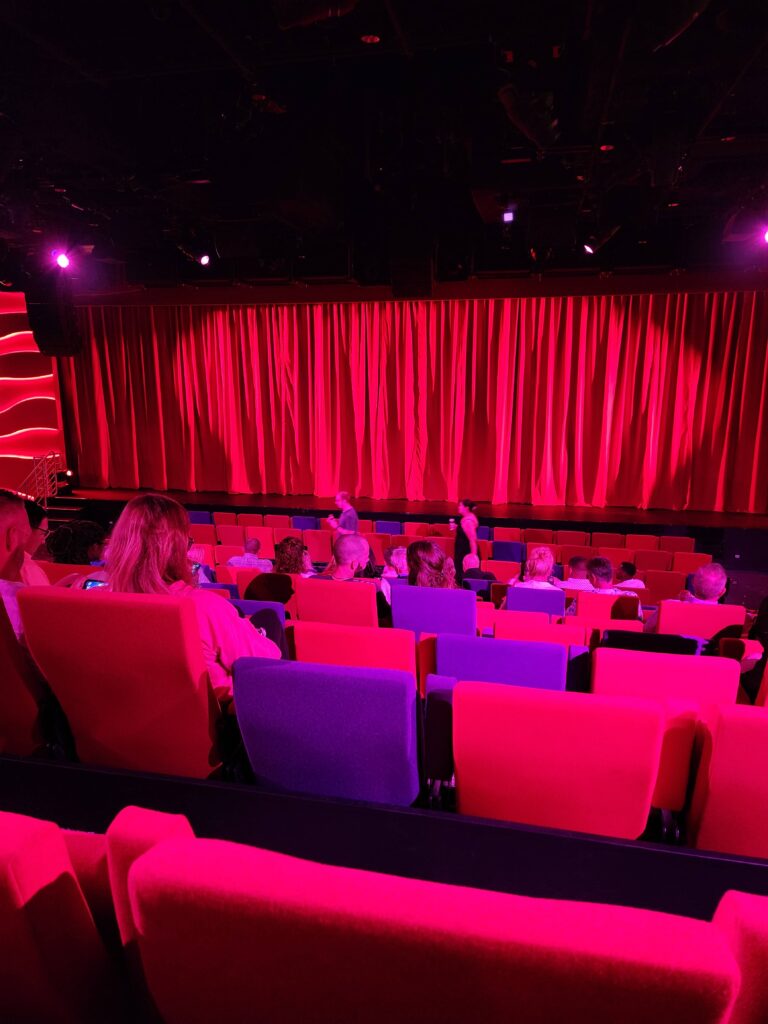 The "Rockstar" Experience
The second sailing was a Fire & Sunset Soirees sailing going to Key West, FL and Bimini, Bahamas. For this sailing I decided to live it up as a Rockstar since my birthday was occurring during this trip. I booked us in a Brilliant Suite, room 14269Z.
When you book a Rockstar or Mega Rockstar category suite, here's what you get:
> Access to Richard's Rooftop, a private outdoor lounge area with daily champagne hour
> A curated in-room mini bar with a variety of spirits, wine, mixers, and more
> Early access to dining and Shore Things booking
> Priority/VIP boarding during embarkation
> A dedicated Rockstar agent available to assist with whatever you may need
In addition to all of those things, you receive a black Band instead of the grey/red one which indicates you're staying in a Rockstar cabin to all the staff. Combined with my Deep Blue Extras, we were treated with such care and warmth (even moreso than before!). We had two room stewards who provided room tidying twice a day and our Rockstar agent, Simba, was always a call or text away. We aren't "needy" people though so we didn't see him too much, but he DID go out of his way to get us invited to a secret party AND he got us invited on an exclusive tour of the Bridge! 
For my birthday, he coordinated with Extra Virgin to bring me a special dessert to wish me happy birthday then when we returned to our suite there was a chocolate cake and champagne waiting for me too. Not only that, the room is so spacious and comes with a traditional bed; the Brilliant Suite also has a pullout couch and can accommodate up to 4 people. 
If you can budget for it, especially for the longer sailings, I 100% recommend sailing as a Rockstar. These suites are the FIRST to sell out so if you see one on a sailing you want to be on, book it ASAP.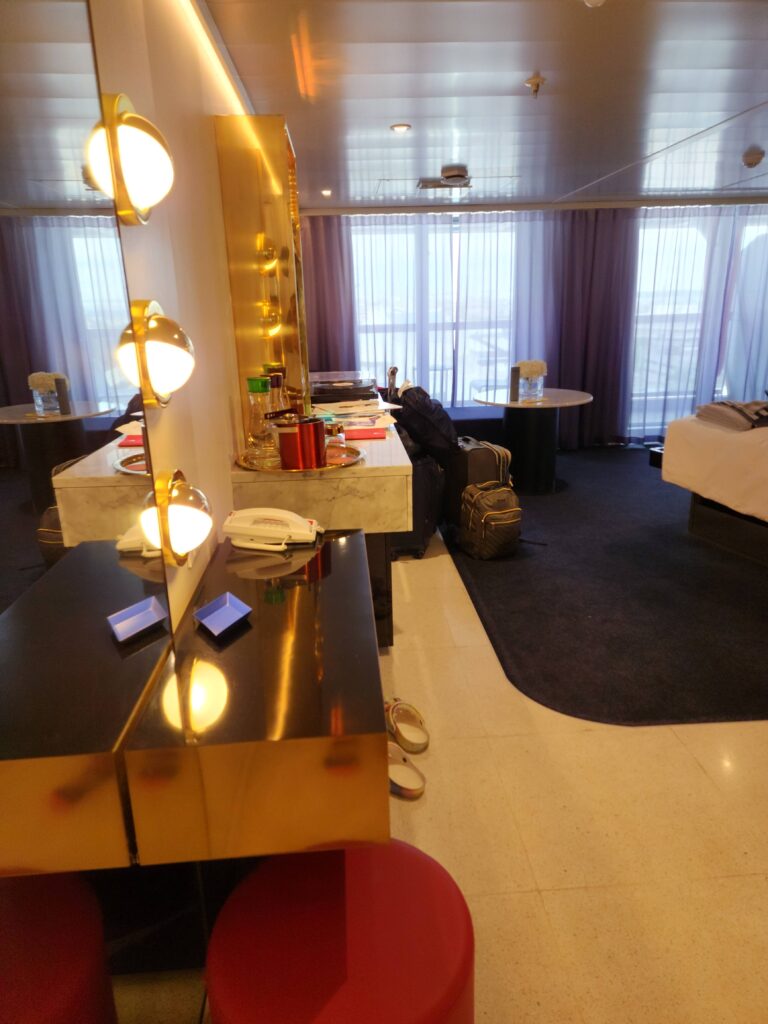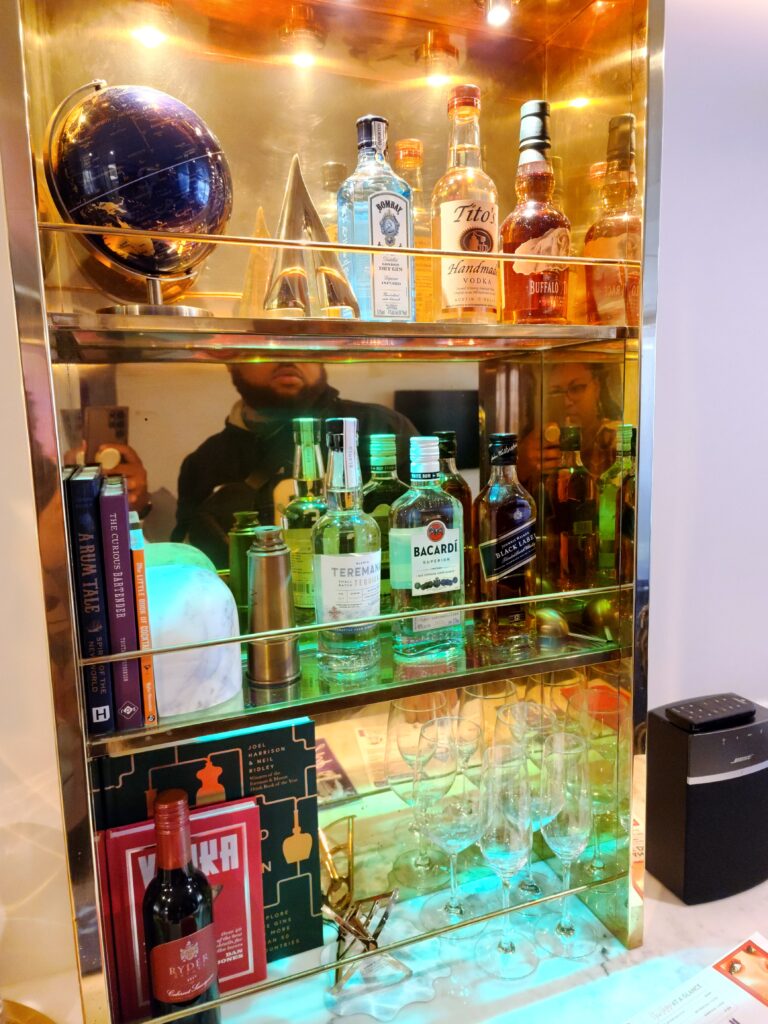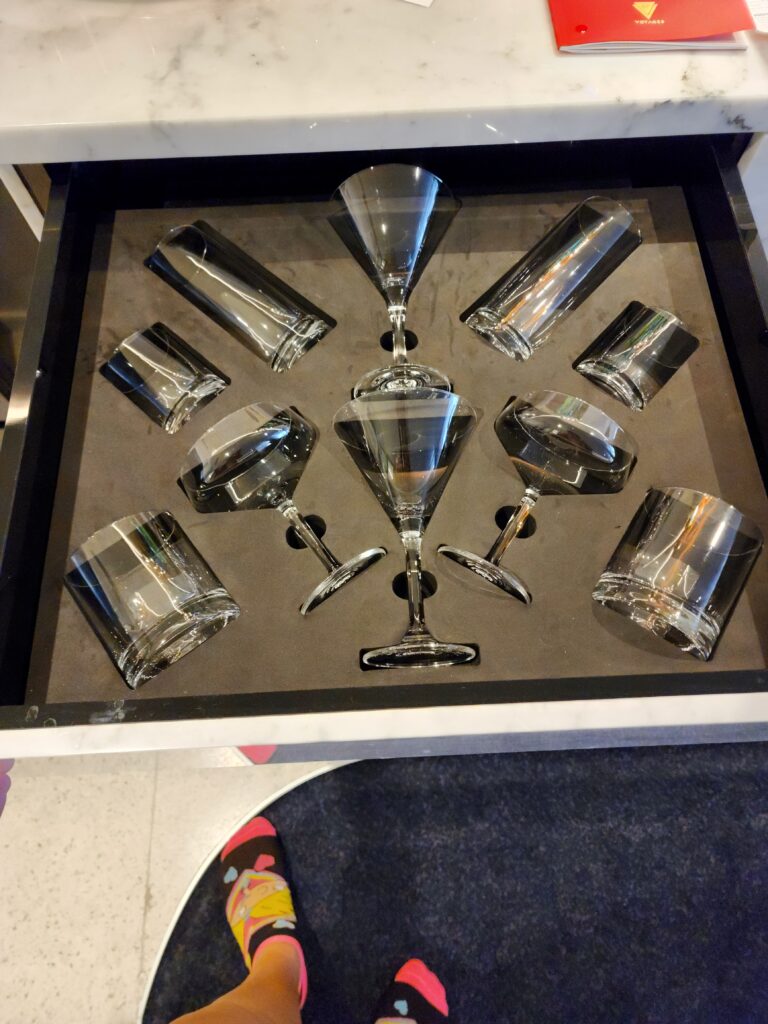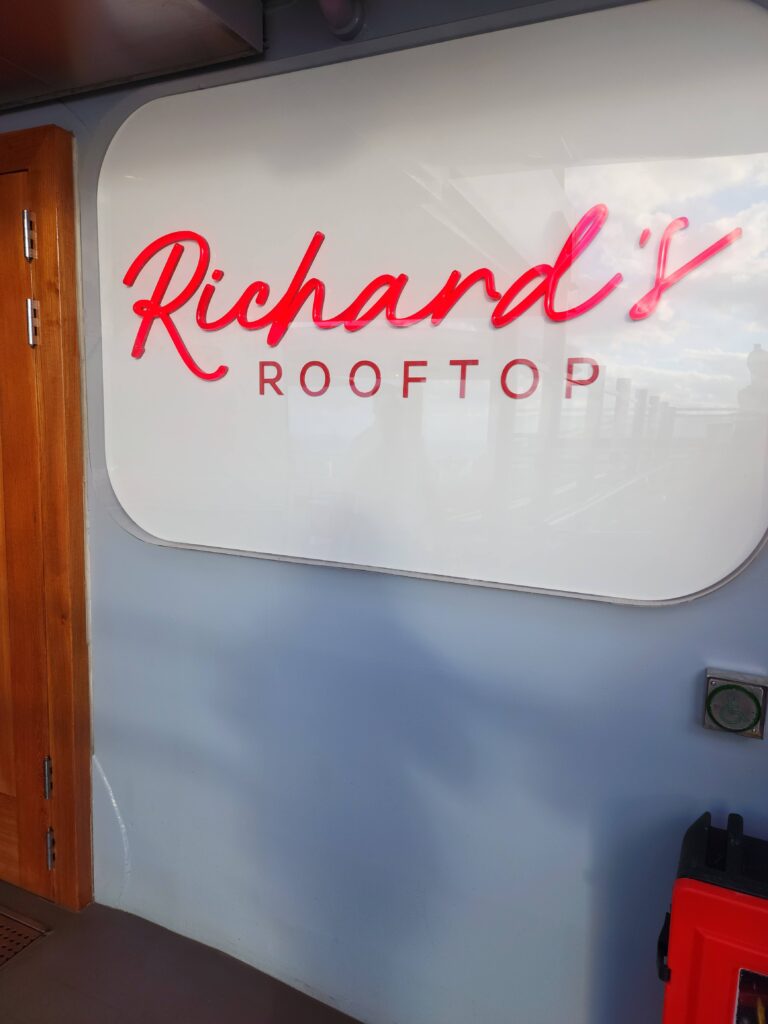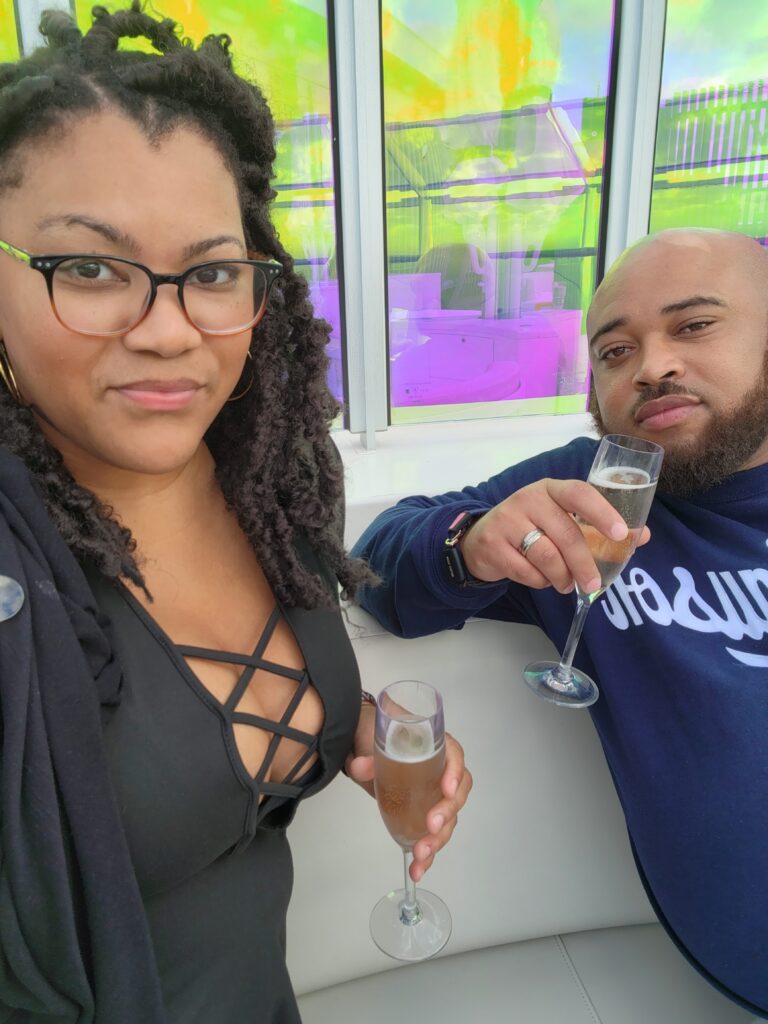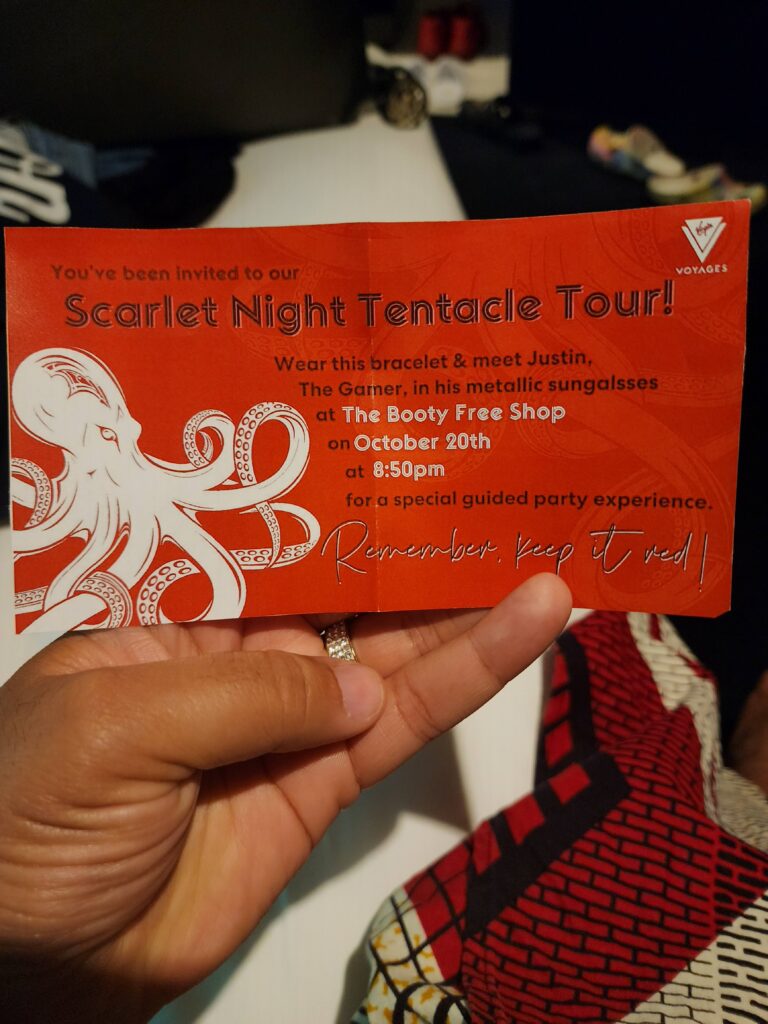 In Conclusion…
This really is an abridged version of our experience and I really just recommend you check it out for yourself. This cruise line is perfect for people who enjoy clean, luxe spaces, friendly service, great food, and a "come as you are" ambiance. We saw people of all ages, creeds, genders, sexual orientations, and more. It truly is whatever you want it to be and that's why I can't wait to be back aboard Virgin Voyages.
Ahoy!
-Krystine
Have a question? Leave a comment or email me! If you're ready to book, the easiest and fastest way is to use my special link at bit.ly/AseVV where you will have access to all current promotions just as I do.