Recently I had the privilege of being an invited guest of The Fives Resorts in the Riviera Maya, Mexico. This meant I was provided with an all-inclusive experience at their resorts so that I could learn more about the chain and experience personally what my clients would experience staying here. 
The Fives Oceanfront Puerto Morelos
My stay began at The Fives Oceanfront in Puerto Morelos, a small fishing town. This is the newest property and boasts a luxury boutique style throughout. The furnishings are comforting and modern and the property sits right on its own private beach. The front desk staff, known as Ambassadors, were all very friendly and eager to assist in any way possible.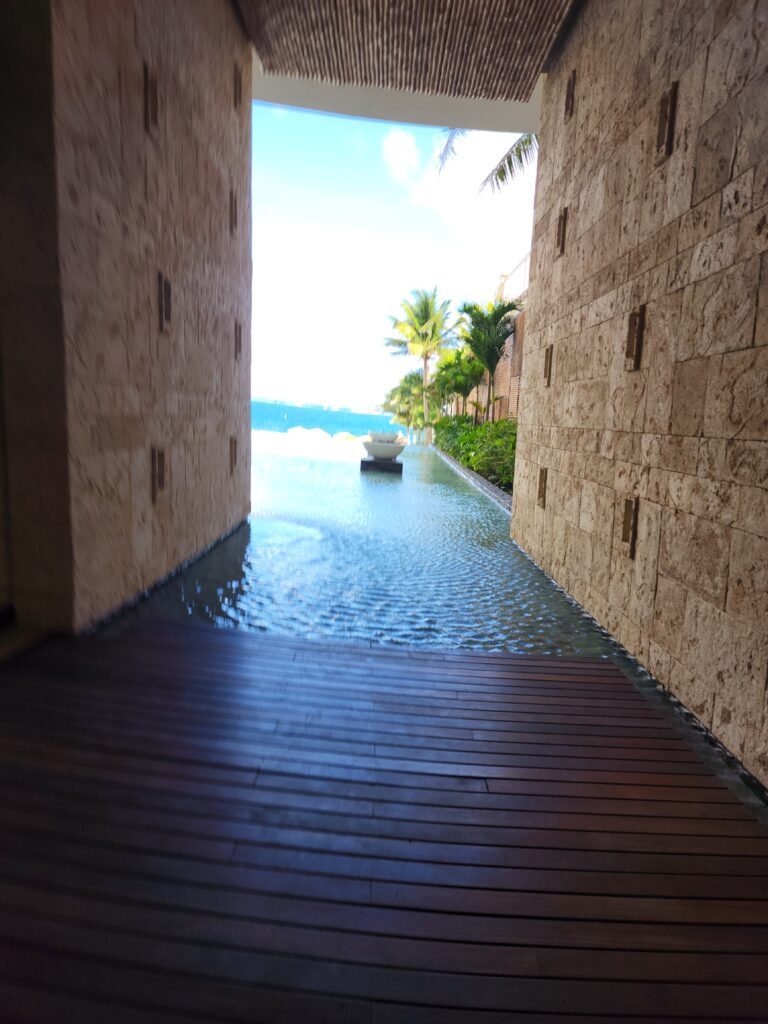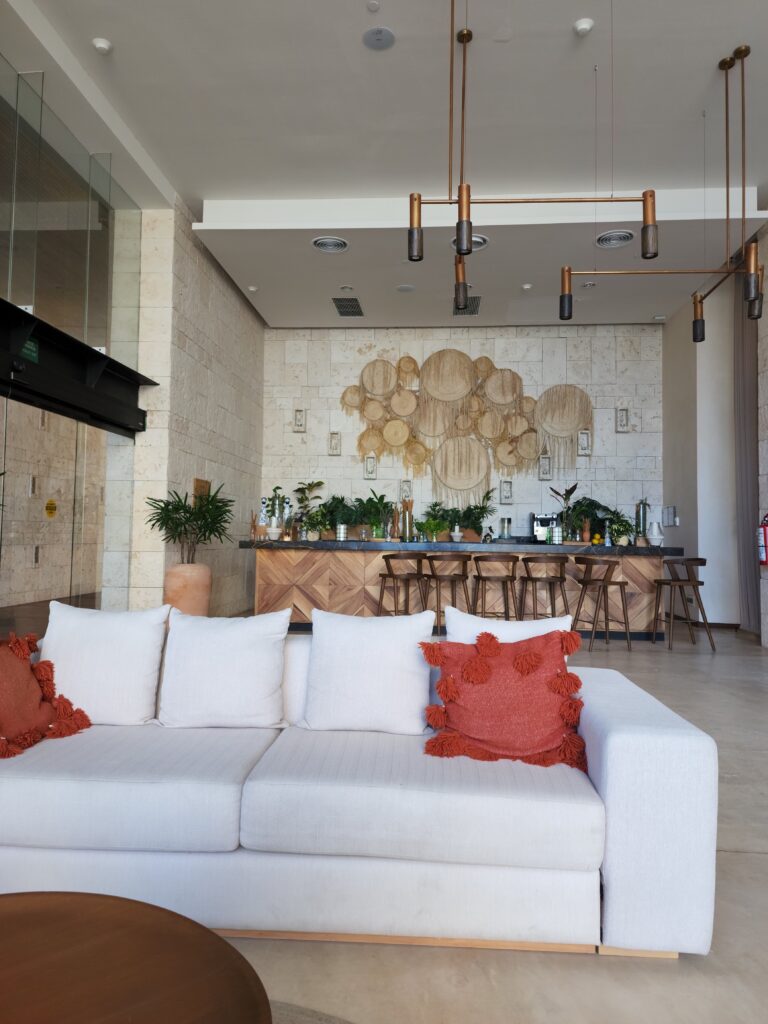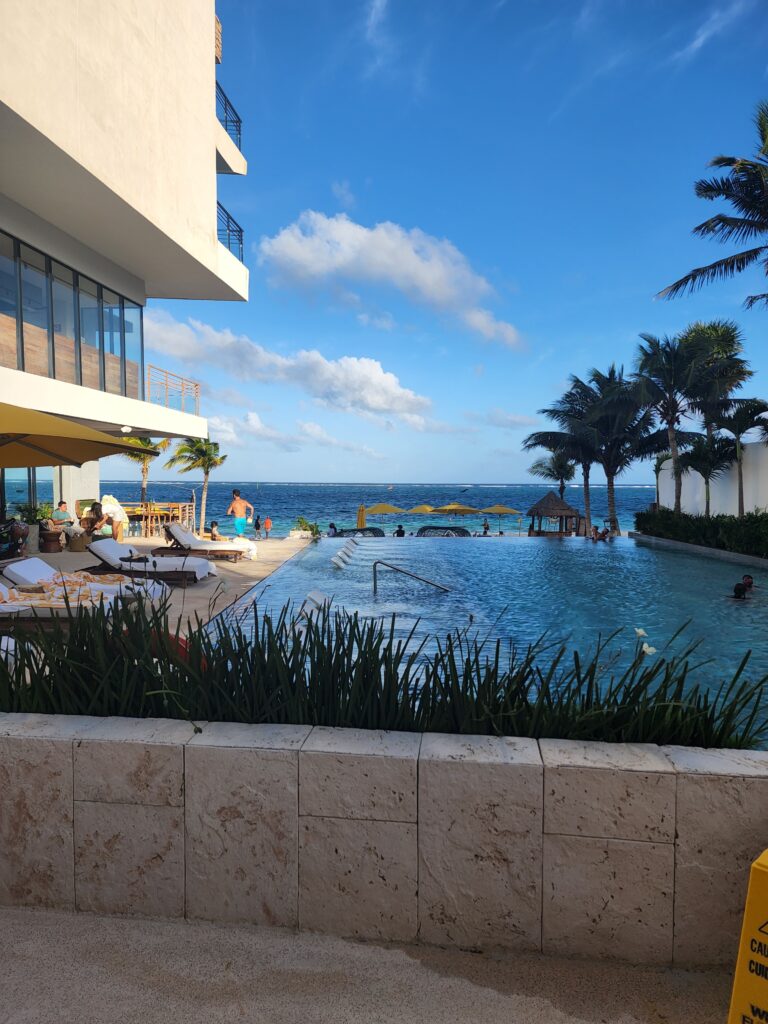 I had the extreme luxury of lodging in one of the rooms in the Three Bedroom Presidential Penthouse Suite which featured its own private infinity pool on the rooftop. Talk about luxury! My room had a beautiful soaking tub, though I didn't get to utilize it as I could never quite get the water pressure high enough to fill the tub. The rain head shower more than made up for it, though. My room specifically came equipped with only a mini-fridge, however I did have access to a full kitchen in the main room. The layout of the multi-room residences consists of one main door that leads to an entry way where the "breakout" doors are. In theory, we could've all kept our doors open for a more "open concept" feeling – important for families with children.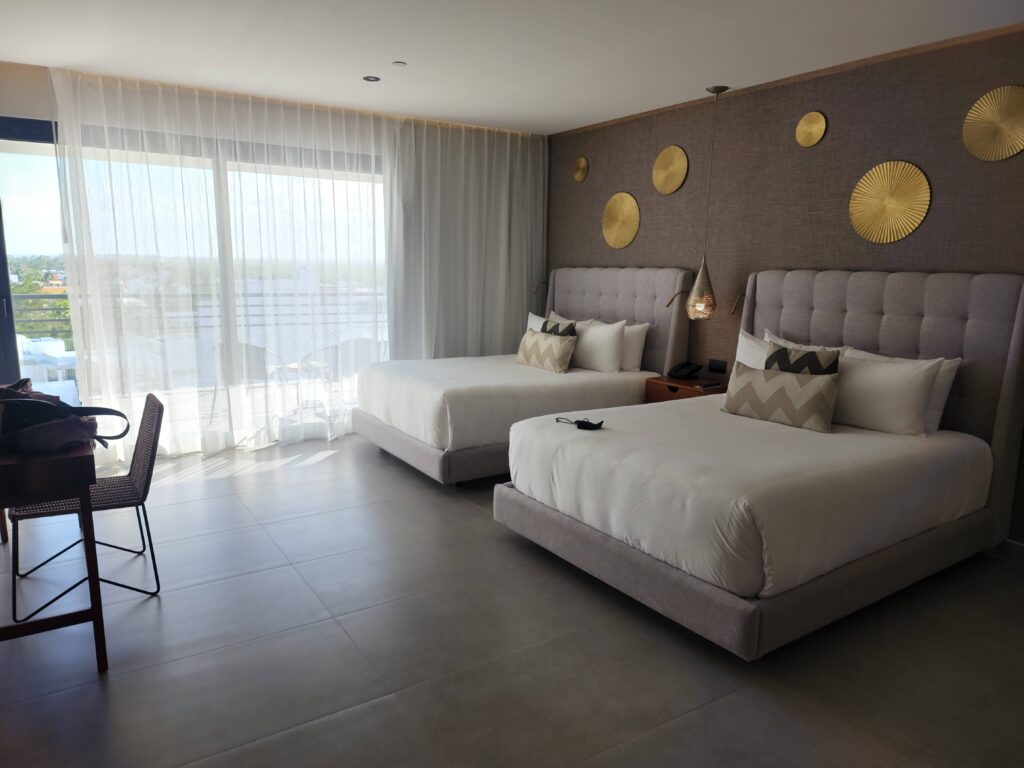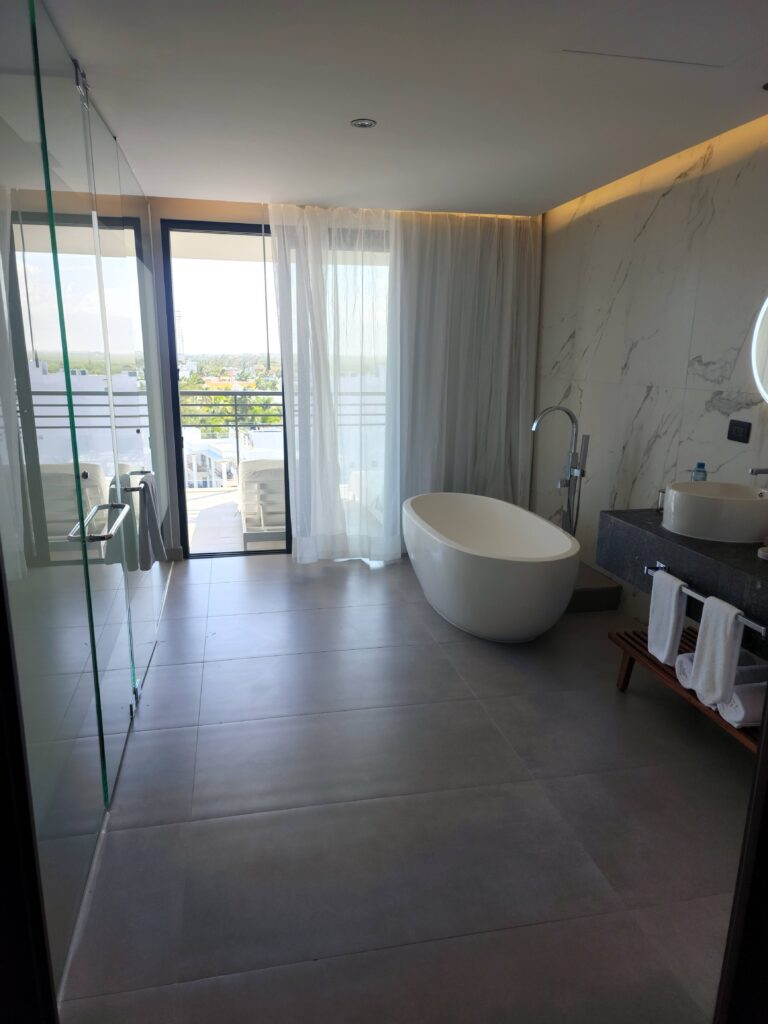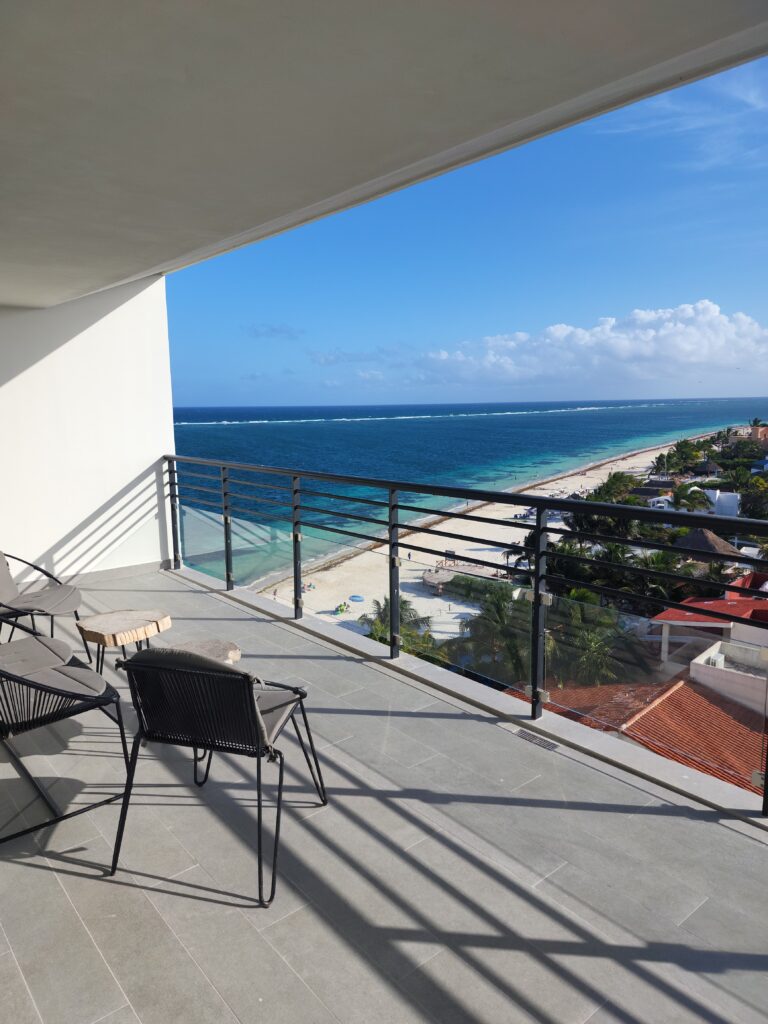 This property does offer an "all-inclusive" package, though with only two restaurants on site, it would be hard to justify the cost of upgrading – you're better off just paying as you go. That being said, the food here was PHENOMENAL. I am a major foodie – I try new things, I love all types of cuisines and I really enjoy immersing myself in the culture. The highlight of this trip, for me, was the RoMarley Beach House which is both a beach club and restaurant owned by Rohan Marley, son of the legendary Bob Marley. I am a huge Bob Marley fan so this was a big plus in my book. The restaurant itself paid homage to Bob Marley through the decoration but also through the cuisine. Everything I ate here was absolutely amazing and I fully recommend it to everyone! Here are just a few pictures of the many amazing things I ate: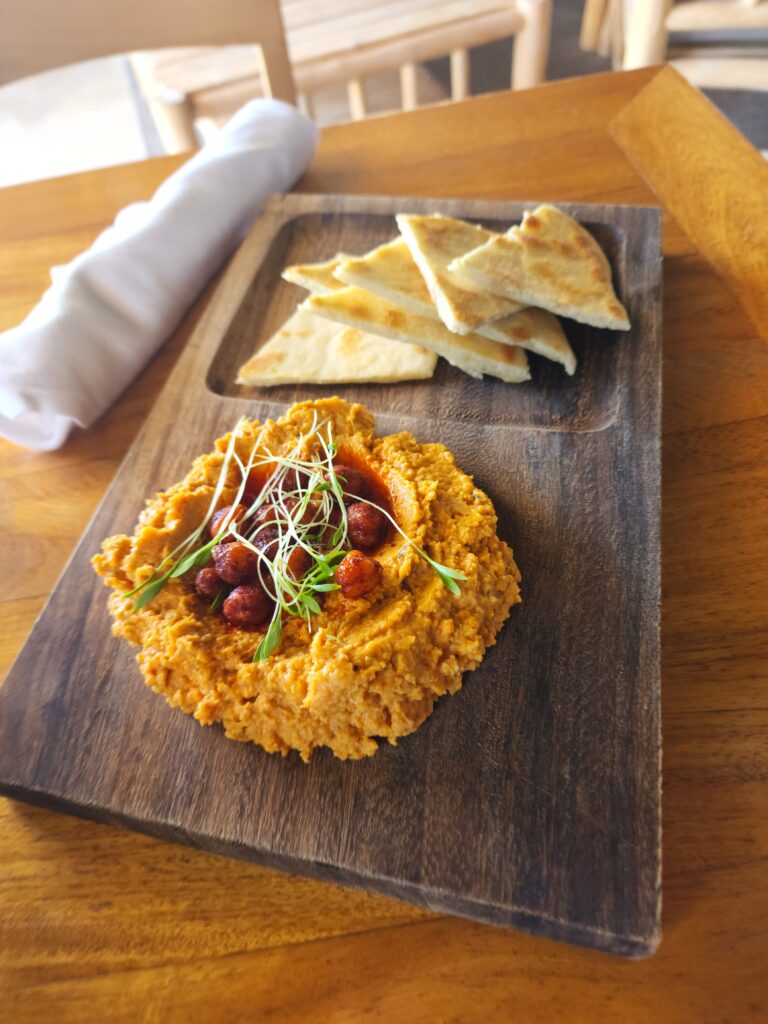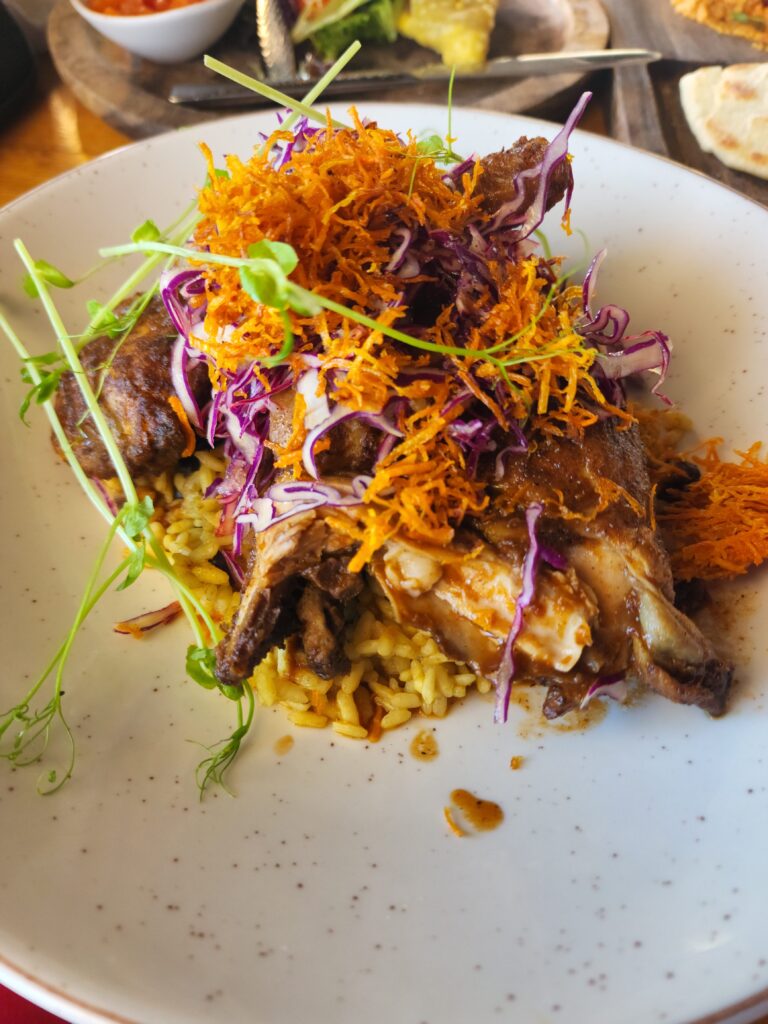 I could keep going on and on but I'll wrap up this resort by saying this – of all three, this one was my favorite. I prefer more intimate, smaller properties. This one was right on the beach with good food and evening entertainment (fire dancers on the beach!) so it was an absolute win in my book. This resort is best suited to couples or individuals who just want to get away and lounge about. Kids are welcome here and I did see quite a few so it could work for families with young children who aren't super fussy or require a lot of entertainment.
The Fives Downtown
Our second stop was The Fives Downtown, located in Playa Del Carmen. This is a chic, swanky property best suited for adults and is even suitable for small conferences as there are three conference rooms on-site. It is two blocks from the ocean and right in the middle of shops and local restaurants. It is best suited for those who seek a more vibrant, party vibe who want to be able to walk to shops and restaurants at any given time.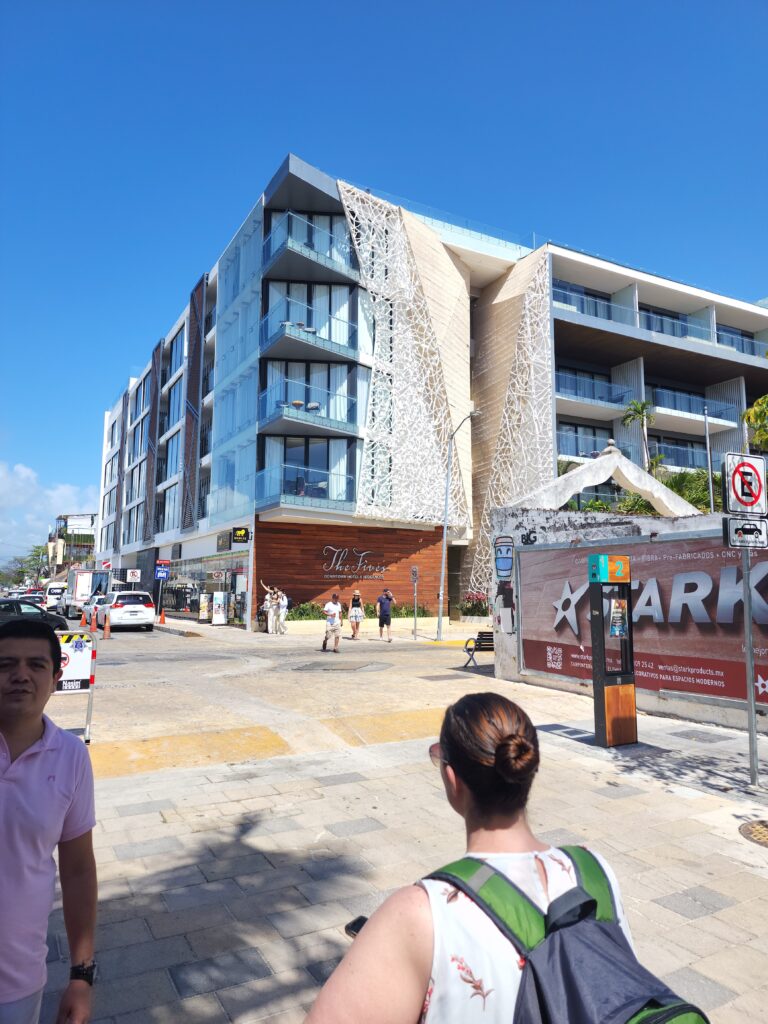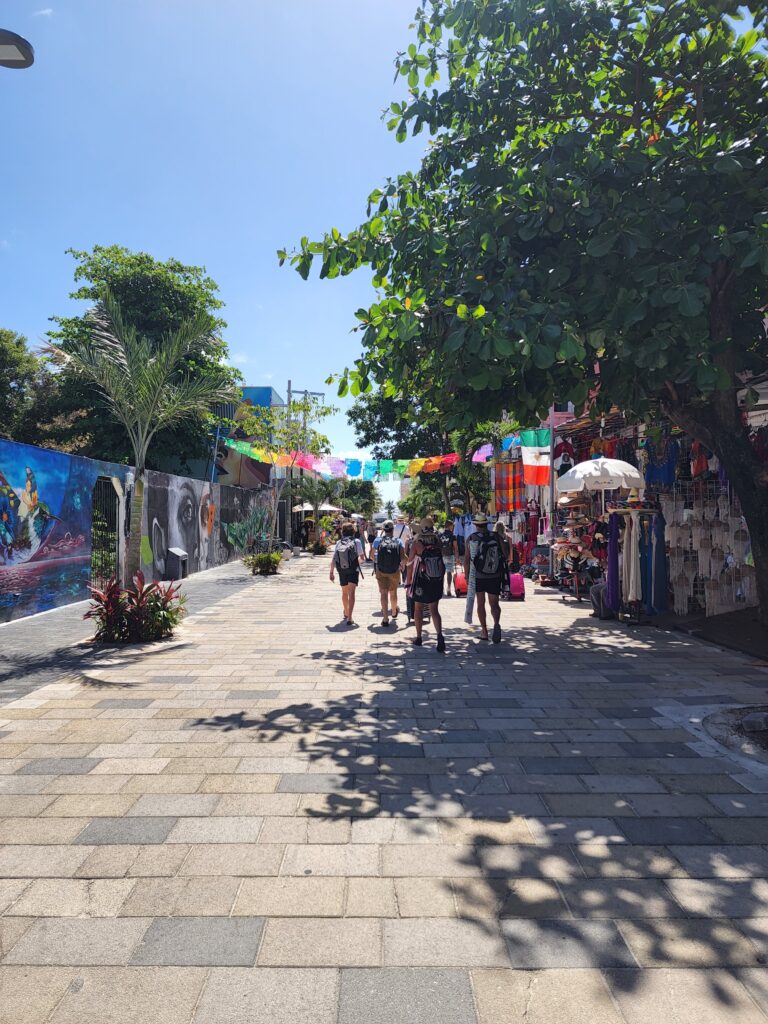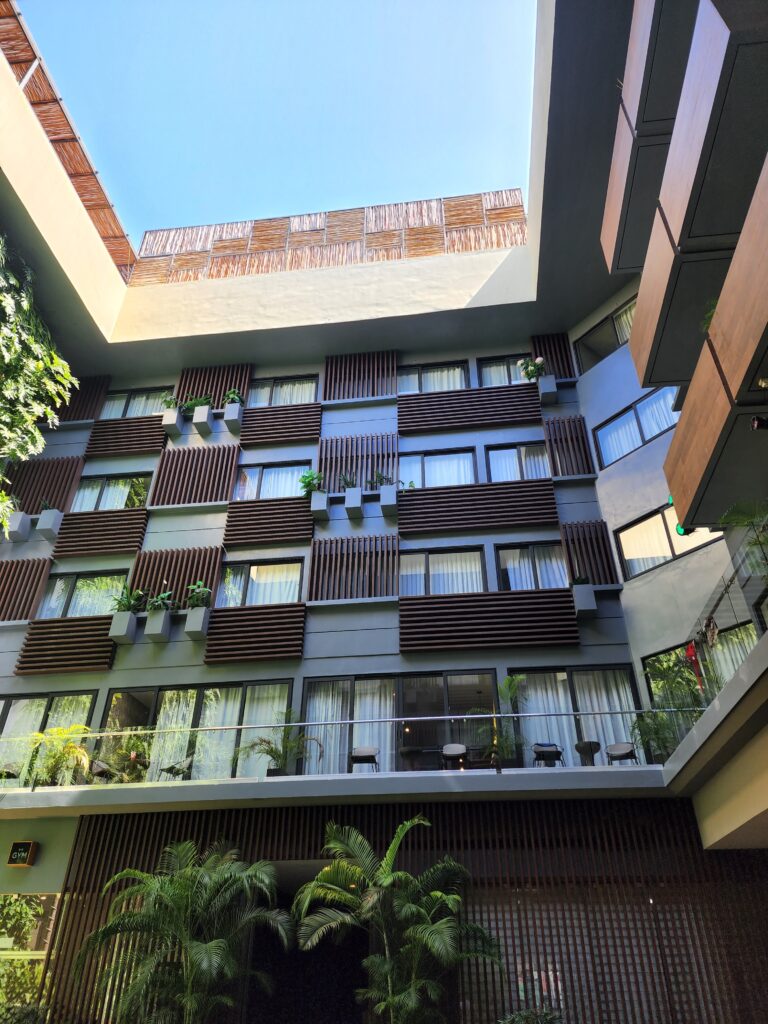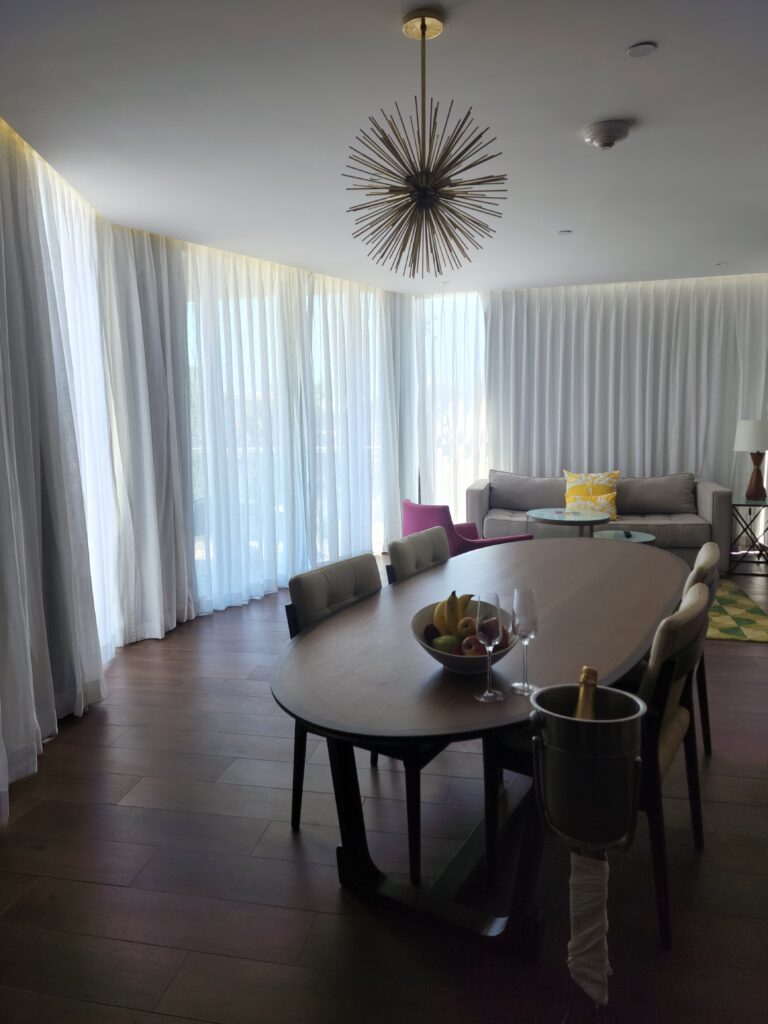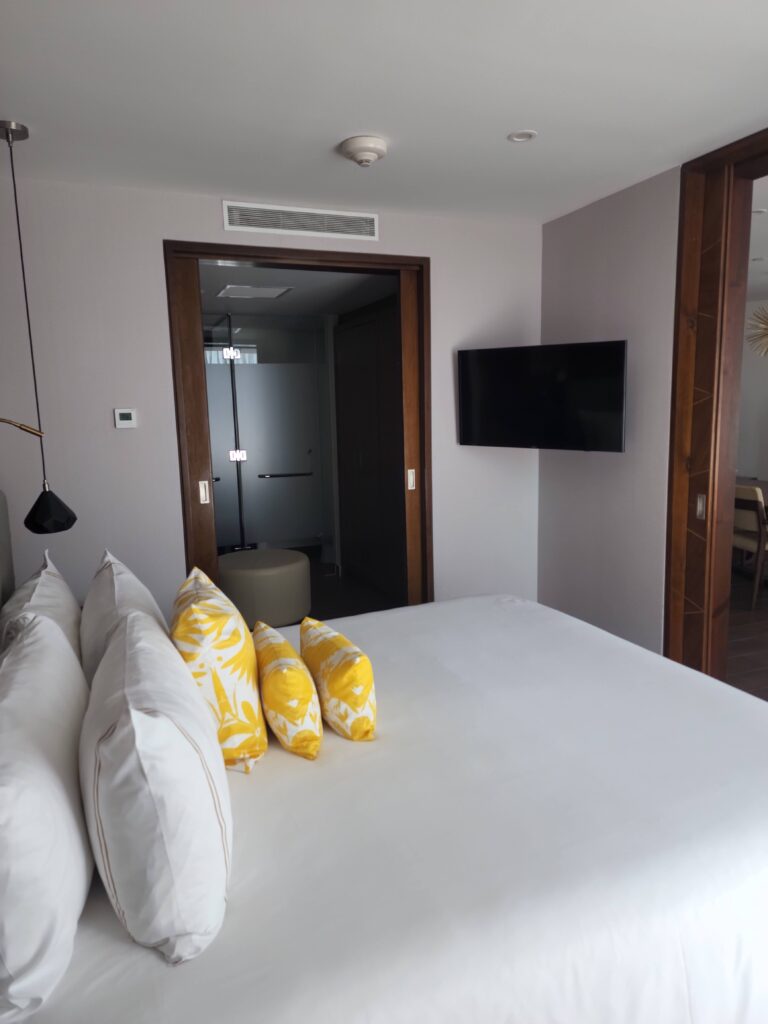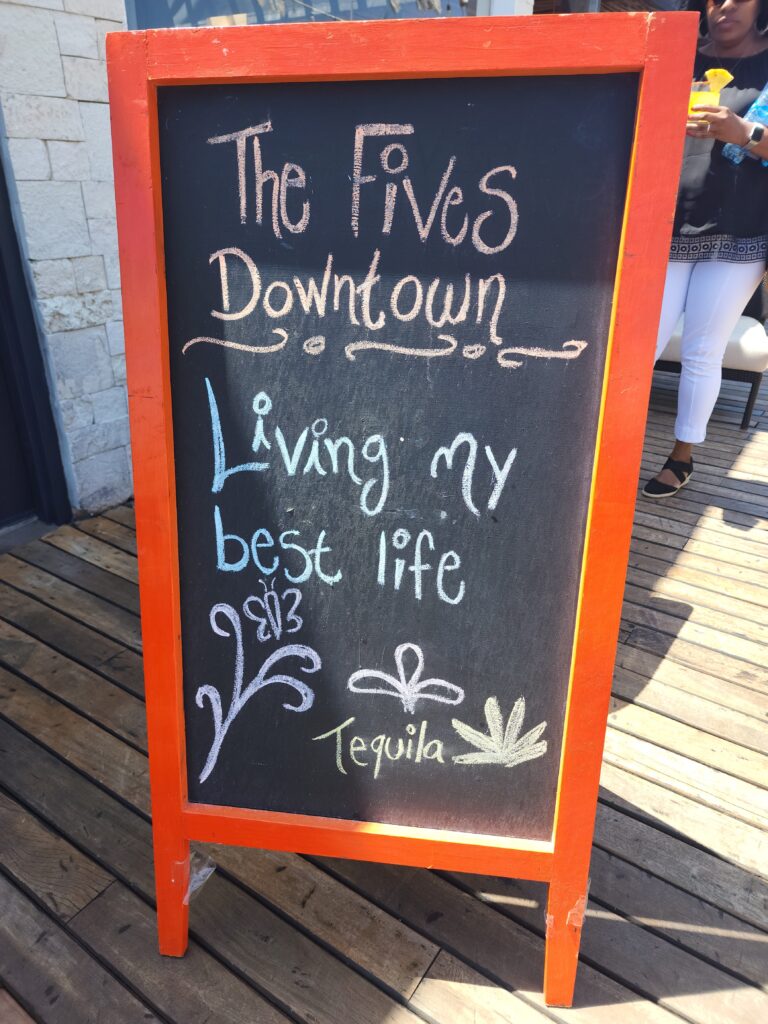 The Fives Beach Hotel & Residences
Our final stop on this trip was the largest of the 3 properties with over 600 rooms, 8 pools and 15 restaurants. Sounds overwhelming, right?! This is the perfect property for families or groups of people with varying tastes who either require a lot of entertainment or a lot of food options. I would definitely recommend the all-inclusive package at this resort since there's just SO MUCH to choose from. This resort features wildlife (you regularly see coati and monkeys hanging around), pathways through the mangroves, a beach, and plenty of activities throughout the day and evening. During this stay, I was in a One Bedroom Residence that I found to be perfect. It featured a full kitchen, separate living area, and a very chic bathroom as well as TWO balconies.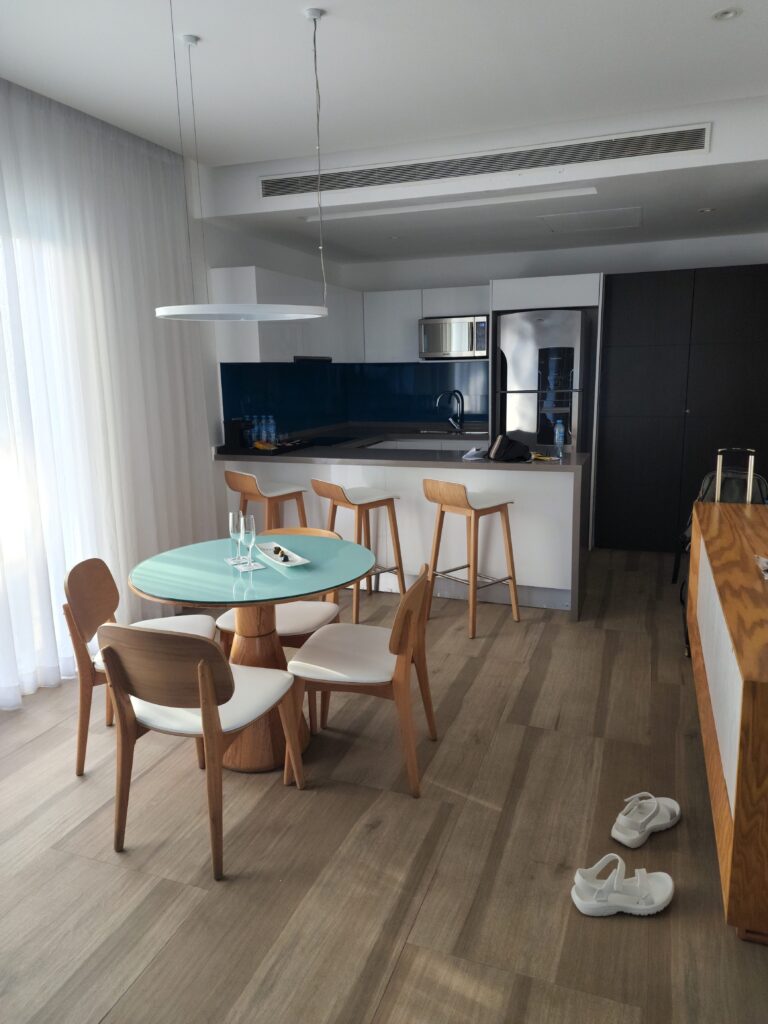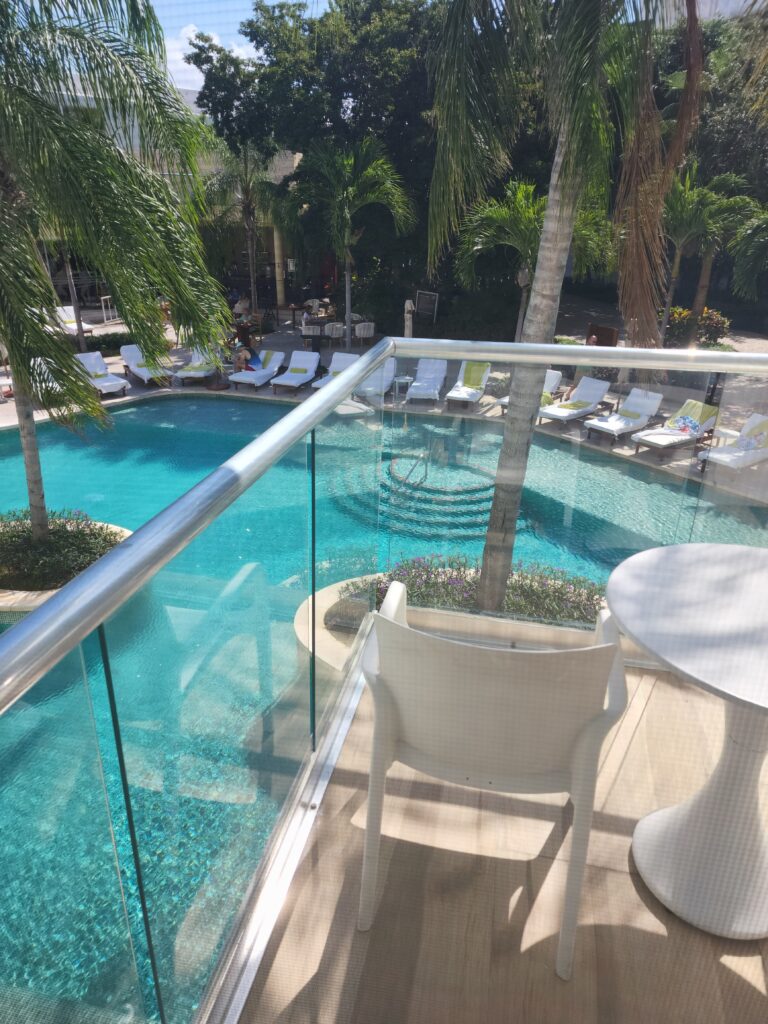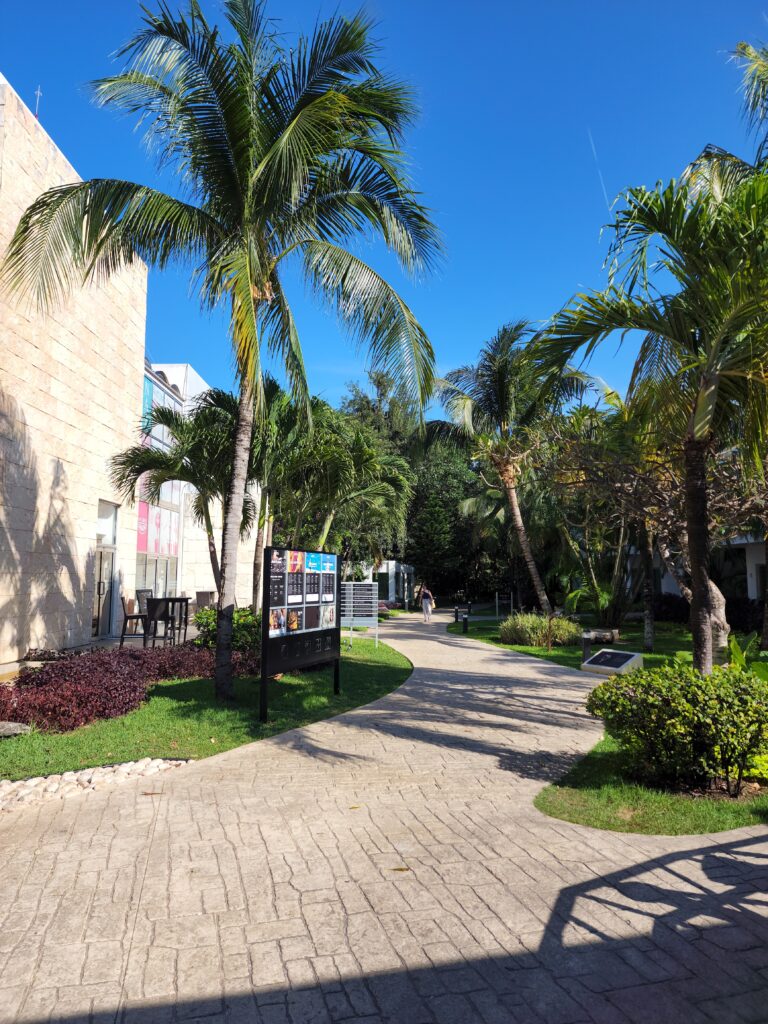 In the evening, we enjoyed dinner in a Pagoda at the Koh Thai restaurant on site – also VERY good. It is one of several things that isn't included in the AI package and will incur an extra charge, FYI. I did get the opportunity to casually stroll the property while enjoying a Dirty Chai Latte from Marley Coffee. It is important to also note that shuttles ARE available if anyone has mobility issues since the property is so large. 
Overall, again, this is an excellent option for families who enjoy larger rooms and like to have tons of variety for food and activities. I would absolutely stay here with my husband and two kids.
In Conclusion…
I couldn't possibly fit in every single detail into this post! What is important to note though is that I absolutely recommend The Fives – named because their goal is to delight your five senses – to all of my clients (current and future!). If you have any questions about my experience or are already sold and ready to go NOW, send me a message!